by Carrie Turner on 6/6/2014 12:53:43 AM
This article is by Carrie Turner, editor of FineArtViews. During her tenure as editor, FineArtViews has been mentioned or referenced by The Huffington Post, MLive, WorldNetDaily (WND), artnet, COMPANY, American Artist Magazine, ArtBizBlog, The Abundant Artist, EmptyEasel and many other publications and blogs. FASO Featured Artists (FFA) is a regular blog series on FineArtViews. Art critic Brian Sherwin is a consultant for the FFA series. The FFA selections are featured prominently on the FineArtViews newsletter -- and are shared with over 25,580+ subscribers. You can read about other recent FASO Featured Artists by clicking here.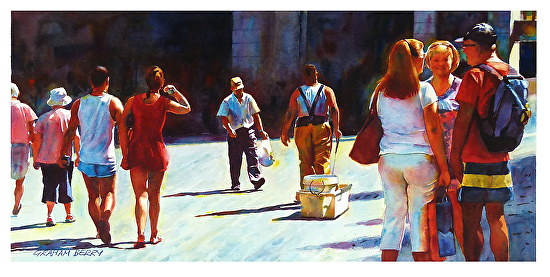 Busy Morning by artist Graham Berry
(Watercolor on Arches watercolor paper)
Artist
Graham Berry
is known for creating eye-catching watercolor paintings. Graham's art is marked by a vibrant use of color. His paintings of beach scenes and other social gatherings offer viewers a charming slice of life. Additionally, he paints coastal scenes and landscape paintings.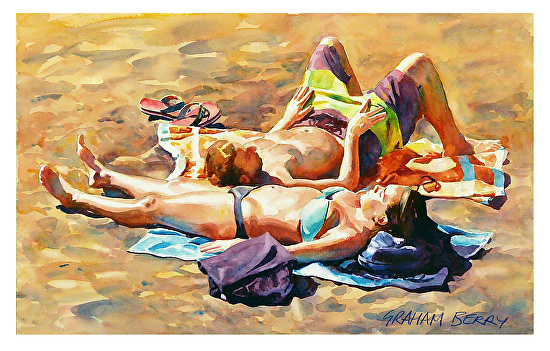 Sunbathers by artist Graham Berry
(Watercolor on Arches watercolor paper)
Concerning his watercolor paintings, Berry stated, "
My paintings are inspired by the effect of light and shadow on our environment, creating dynamic shapes and colours. I especially enjoy painting people going about their everyday lives.
"
Art critic Brian Sherwin, Editor of
The Art Edge
, commented on Graham's watercolor paintings, remarking, "
Graham Berry has an eye for capturing people at work and play. His paintings of social gatherings -- be it a market place or resort -- reveal the energy that surrounds us in daily life... reminding us that life is never truly dull as long as we learn to 'see'.
"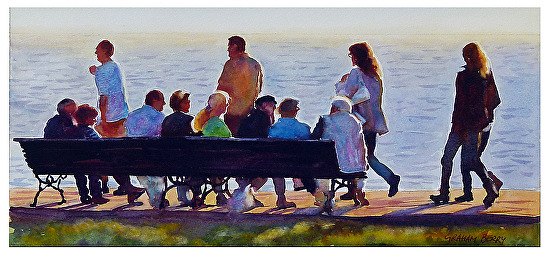 Crowded Bench by artist Graham Berry
(Watercolor on watercolor paper)
You can learn more about artist Graham Berry and his watercolor paintings by visiting
www.grahamberrystudio.com
.